The Roots – Things Fall Apart Goes Platinum!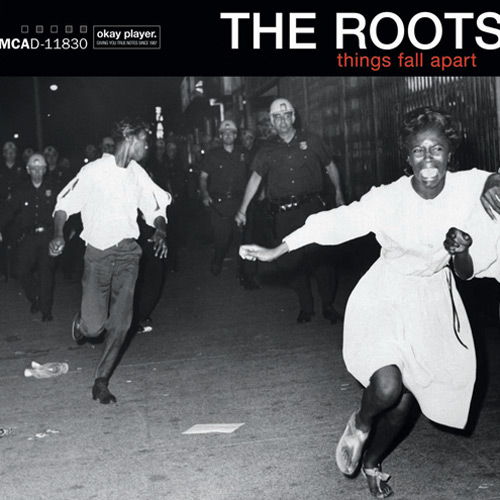 On Tuesday, April 23rd, it was announced that The Roots THINGS FALL APART album officially went platinum.
This prompted me to ask Kenny, our creative director and the credited designer for this album, the story behind the intriguing cover art we have hanging on the walls of the Gravillis Inc. studio. In 2005, the main cover was featured in the book The Greatest Album Covers Of All Time by Barry Miles, Grant Scott & Johnny Morgan (Collins & Brown).
VP of Creative Services for MCA Records at the time, Kenny was shown the proposed artwork for THINGS FALL APART.
"The original cover was an illustration of The Roots with Diddy, Puffy Combs back then, at the bottom of the ocean."
Kenny jumped on a plane and flew to meet with Ahmir (Questlove) and Tariq (Blackthought) to discuss the cover art further. After meeting with their friend who worked on the original illustration, Kenny was able to convince them all to explore more options.
"I listened to the album and researched historical stock images at Bettman Archives. Twenty proposed comps later, they settled on 1 they loved."
The cover they chose is the image of the riot police chasing two black teenagers on the streets of Bedford-Stuyvesant. With so many riveting images to choose from they decided to make 4 additional covers as limited special editions.
"What a lot of people don't realize is that the covers were designed so that when all 5 are placed together, laid side by side on the back there is a running message."
You'll need to cop them all to see what it says.
Congratulations to THE ROOTS on their first platinum album!